July 26, 2023
Basin Sink Ideas for Your Home
While washbasins serve a functional purpose, their potential goes beyond just utility. Designed with flair and elegance, they have the power to elevate an ordinary bathroom into a sophisticated and refined space. Therefore, selecting the right washbasin design becomes essential. To assist you in making a decision, we have curated a captivating collection of basin sink design ideas that will infuse your washroom with style and grace.
Top Basin Sink Ideas to Look Out For
Incorporating a wash basin into your bathroom décor is significant, but finding the perfect one can pose a challenge. The key is to select a wash basin that complements your bathroom style, offers sufficient space for washing and grooming, and is easy to maintain. To help you with this decision, here are some designs that will guide you in choosing the ideal wash basin for your home: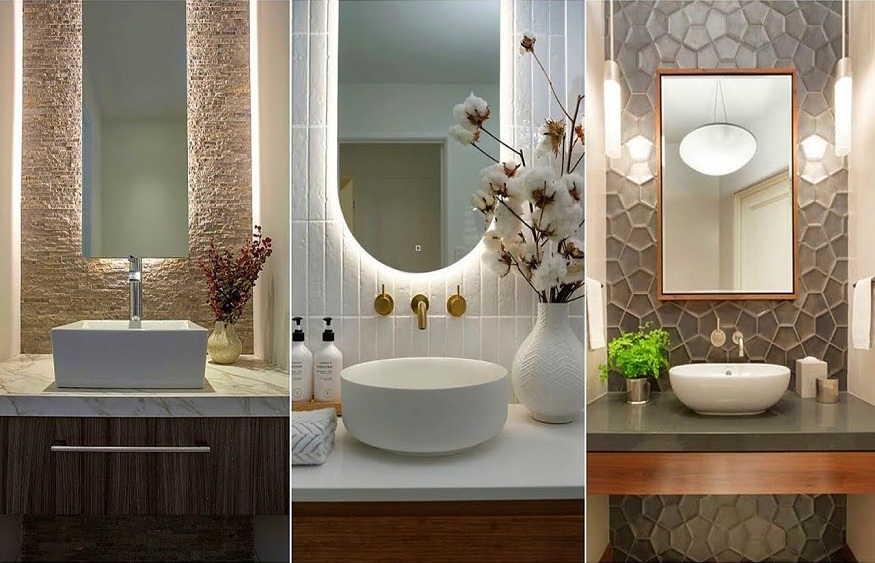 Minimalism
This bathroom basin sink design is particularly suitable for small spaces as it seamlessly blends into the decor, making the bathroom appear more spacious and less cramped. A cluttered tabletop wash basin design can look overwhelming and challenging to maintain, as it adds to the overall chaos. To counter this, maintaining a clean and minimalist approach with only the essential items is a smart strategy to declutter and create a more open and inviting space.
Try Out Metallic Detailing
This corner wash basin sink features a classic white porcelain sink, elevated with a stylish enhancement through a sleek gold tap fitting. Upgrading your bathroom fittings to modern options in chrome or metallic finishes can effortlessly give the space a polished and refined appearance without the need for a complete renovation.
Designer Wash Basin for the Guest Bathroom
Before hosting house guests or entertaining, several tasks naturally come to mind. These include tidying the home, ensuring sufficient groceries and essentials are stocked, and arranging spaces to make visitors feel comfortable and welcome. Among these spaces, the guest bathroom holds particular importance.
Whether it's a simple evening gathering or a weekend stay, the guest bathroom should exude warmth and freshness. This involves decluttering the countertop, removing all personal shower and beauty products, and providing a fresh supply of hand wash, towels, and other necessities your guests might require.
Wash Plane Wash Basin Design
The wash plane wash basin sink design is known for its simplicity, making it one of the most minimalist options available. It is commonly found in the restrooms of restaurants and hotels, chosen for its streamlined and stylish appearance. This design is particularly favoured for washrooms with limited space due to its space-saving nature. Wash plane basins are typically crafted from materials like porcelain, glass, and ceramic, making them excellent additions to modern bathrooms.
A Sink for Everyone
Continuing with our list is a contemporary washbasin design that caters to shared living spaces. Sharing a bathroom with someone can be challenging, whether it's with a sibling during childhood, a college flatmate, or a spouse or life partner later on. However, if you have the available space and budget, consider incorporating separate "his" and "her" designs in your bathroom, complete with individual sinks and dedicated storage spaces for each person. This arrangement helps maintain a sense of intimacy and grants you the freedom to use the area as you desire without compromising.
Bowl-Shaped Wash Basin Design
Bowl-shaped wash basin sink designs for the dining room are available in a wide array of choices, but it's widely acknowledged that nothing exudes elegance quite like a simple and minimalist style. The proper and precisely crafted bowl-shaped wash basin represents one of the finest examples of simplified design. Incorporating this basin into your dining room will elevate its elegance to levels that may exceed your expectations.
Final Words
A bathroom sink holds the potential to be the focal point of the entire bathroom, being one of the first elements you notice upon entering. Additionally, it often provides some of the only available counter space within the bathroom, making it an ideal spot to incorporate decorations and decorative elements. Therefore, when seeking the perfect design, the basin sink ideas mentioned above can serve as valuable inspiration to infuse colour and decoration into your bathroom space.