April 28, 2022
Cozy Backyard Bar Decorating Ideas
Backyard bars make for a great spot to relax on your own or with family. You can hide away from outsiders in your own private outdoor space and enjoy a meal and drinks with loved ones. It can also help in hosting and dishing out drinks when entertaining guests. However, it is not just functionality that makes for a great backyard bar. To want to spend time there, you need to create an atmosphere of coziness. Here are some creative ways to accomplish this, even on a tight budget.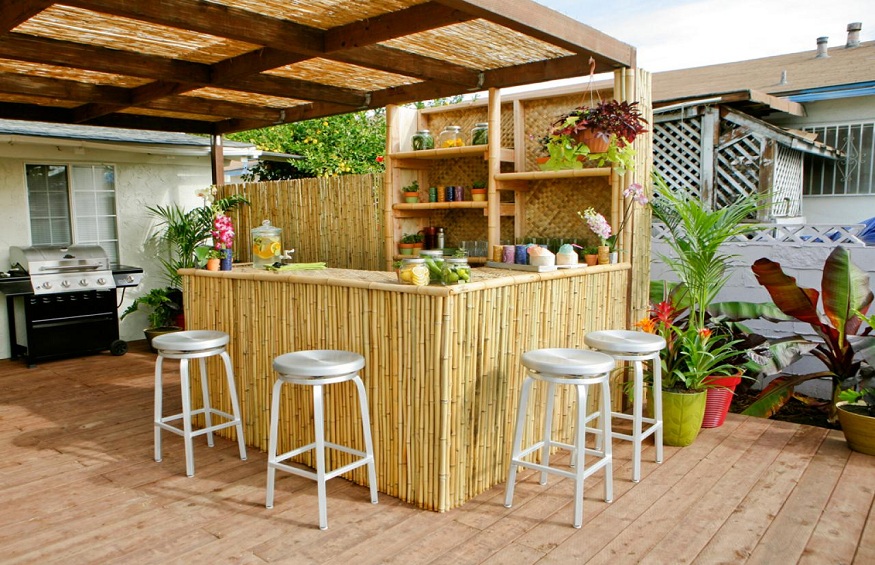 Shade
Ensuring a shaded area over your bar will make it more comfortable for people to spend much time there, especially when sunny. Creating shade can be easily accomplished with a shade sail, patio umbrella, or other inexpensive PVC canopy setup. You can even consider constructing a pergola overhead if you have the money. You do not need a walled structure for this, as the open-air will provide enjoyable relief.
Throw Pillows and Cushions
You will likely have seating around your backyard bar, which may be bar stools or a sofa against the wall. You can soften the look and add some comfiness by adding colorful throw pillows and cushions. A colorful rug can also make for a good addition, though you may want it on the server's side rather than where the bar stools are to avoid getting damaged from scraping furniture.
Decorative Tiles
Decorative tiles come in a wide range of colors, patterns, and imagery that make them a great way to add whimsy and coziness to just about any indoor or outdoor space. Tiles can also serve a more functional purpose in wet areas as they can prevent water from penetrating. This is an affordable option as you do not need to invest in many tiles to create the desired look. You can alternate them with plain colored tiles or have them arranged to create a mural.
Cooking
Incorporating a cooking device like a barbecue grill or pizza oven into your backyard bar can make it feel just as cozy as a kitchen. It does not even have to be a major installation as there are many affordable and portable options you can place on any flat surface and get cooking. This will make for a great addition as the smell of cooking food is very pleasurable and gives your guests something delightful to anticipate.
Plants and Herbs
Adding some plants and herbs around your backyard bar has several benefits. The first is that plants naturally make for a more relaxing and refreshing environment. You can have them planted in the ground near the bar, in pots, or hanging baskets. Many herbs also have pleasing odors, like rosemary and mint. Homeowners that install their bars also tend to be interested in making cocktails. Many cocktails include herbs and fruits in their recipes. A fresh supply of these within arm's length will make for an even more interesting entertaining experience. You can purchase a wide variety of plants and herbs at local gardening centers at affordable prices.