October 30, 2021
How to Decorate Your New Apartment
Living by yourself, and having a space of your own, is a privilege that many of us get to experience at some point in life. Setting foot into a new life by moving to a new city, state, country, or even just a new neighbourhood, and into your apartment, is a big step and quite a necessary part of growing up. And since it doesn't always come with a user manual, it usually is quite daunting. From changing your postal address to a place that completely belongs to you, to having to plan everything about your day by yourself, living on your own does present new challenges each day.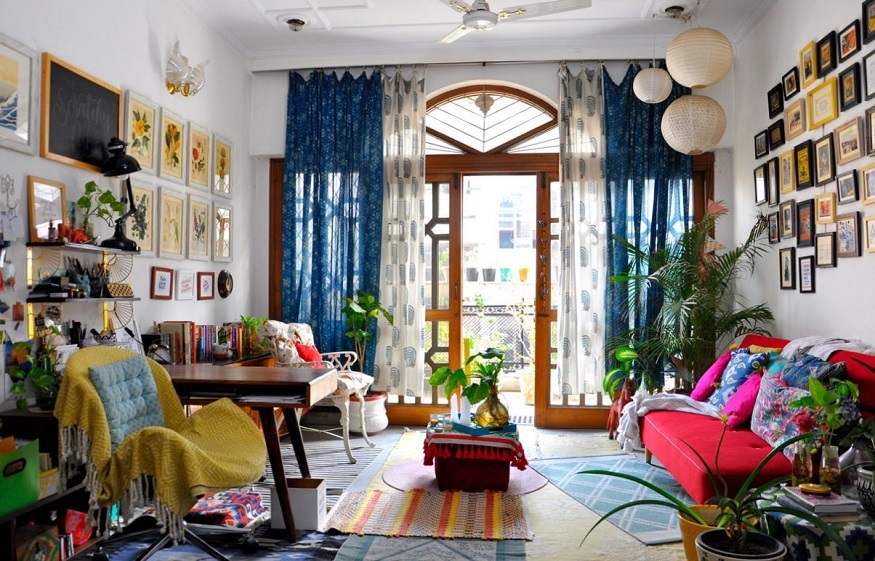 If you're finally moving into your first independent space, then you know you have something of a task ahead of you. As much as there will be good things happening every day, there will also be bad days when nothing may seem to go right. But, as they say, "it's better to cry in a Lamborghini than on a bicycle," we are here to help you get your place set up and look swanky and comfortable. We have done our homework and have compiled a few tips and tricks to help you get set. To know more, keep reading.
Delineate and prioritize your spaces:
Setting up an apartment is quite a task, even if the space is not that huge in itself. One thing to remember is that the first month is usually the toughest for anyone moving into a new space. Not everyone can afford to put everything else on pause and focus on setting up their space. Mostly, it involves doing what you can every single day. Prioritizing which rooms or spaces need to be set up first can make things a lot easier for you.
The priority should be your bedroom or living room, wherever you can catch a good night's sleep. If you are someone who cannot do with eating take-out or dining out every other day, then we suggest that you work to set up your kitchen as soon as possible. When setting up the decor and electronic appliances, try to visualize how you want your space to look in the end and furnish it accordingly—working on the essentials first. The first items that you use for decoration will set the theme for your space, so choose them accordingly.
Work with the elements:
When you're moving into an already built-up area, the constructed parts are nearly impossible to change. Doorways, windows, and partition walls have already been made and the only way to layout your items of decor is to work with these elements. Natural light and ventilation are your allies and make sure to maximize them as much as possible instead of blocking them with your decor or furniture.
High ceilings, large windows, and spread-out areas are all attributes that will work well with minimalist decor. Invest in thin-legged furniture and area carpets in light tones for an airy and spaced-out look. Chunky and oversized furniture and appliances will not only make your space look smaller, but are also difficult to clean and move around by yourself. As a rule of thumb, keep the largest piece of furniture in the central space in the room and use smaller pieces to accessorize your space. A bed, sofa-set, or dining table in the centre along with small tables and chairs at the sides along walls or windows to create a study corner are all great places to start. Handmade area rugs work wonderfully to delineate or mark separate spaces in a room.
Setting a theme and colour palette:
Working your decor around a theme is a great way to bring a sense of balance and harmony to a room. The largest objects in your space will be the ones that set the theme, while the smaller accessories like lamps and window shades will help reinforce it. We highly advocate that what looks good to you, works for you. After all, your space should be nothing less than an extension of your personality, and you should be free to express yourself as you like.
Remember that a space should not have more than four different vibrant colours. An easy way to make sure that you're not overdoing the colours is to take one piece of furnishing that has the most details and accent colours and stick to that for the rest of the objects. An unusual shade in your decor will almost certainly attract attention, so use that superpower wisely.
Metallic tones in your decor will always add an element of luxe, and the easiest way to do that is to use time-tested colour combinations like blue and gold, red and gold, and green and silver. Warmer tones of colours will make for an inviting and comfortable space whereas colder tones usually look uninviting.
Using Decor Items to make spaces appear larger or smaller:
The right decor will always enhance the style of your space. Using a wall-to-wall fitted area carpet will make your space appear smaller while a smaller area rug will make it appear spacious. The size of your furniture too will influence how crowded the space looks. While outdated bulkier pieces make the space appear smaller, they're also quite inviting and cozy. Minimalist furniture makes a space appear spaced out, airy, and sophisticated.
Using Decor to tie your space together:
You don't always need to strictly stick to a theme to make your space seem well put together. The discerning factor that sets a well-done space, from one that is not, is that a well-done space seems like it has something to tell. A well-done space does not seem incomplete and can tell something about the homeowner while a space that is not doesn't speak about the owner's persona or character at all.
When talking about decorating a place, the basic reason behind it is our need and want to express ourselves. When decorating your new apartment, it is worth noting its symbolic nature that your home is supposed to be a safe place where we get to decide who and what we welcome into our lives. And that in the end, it is all about what feels comfortable to you, both practically and figuratively.